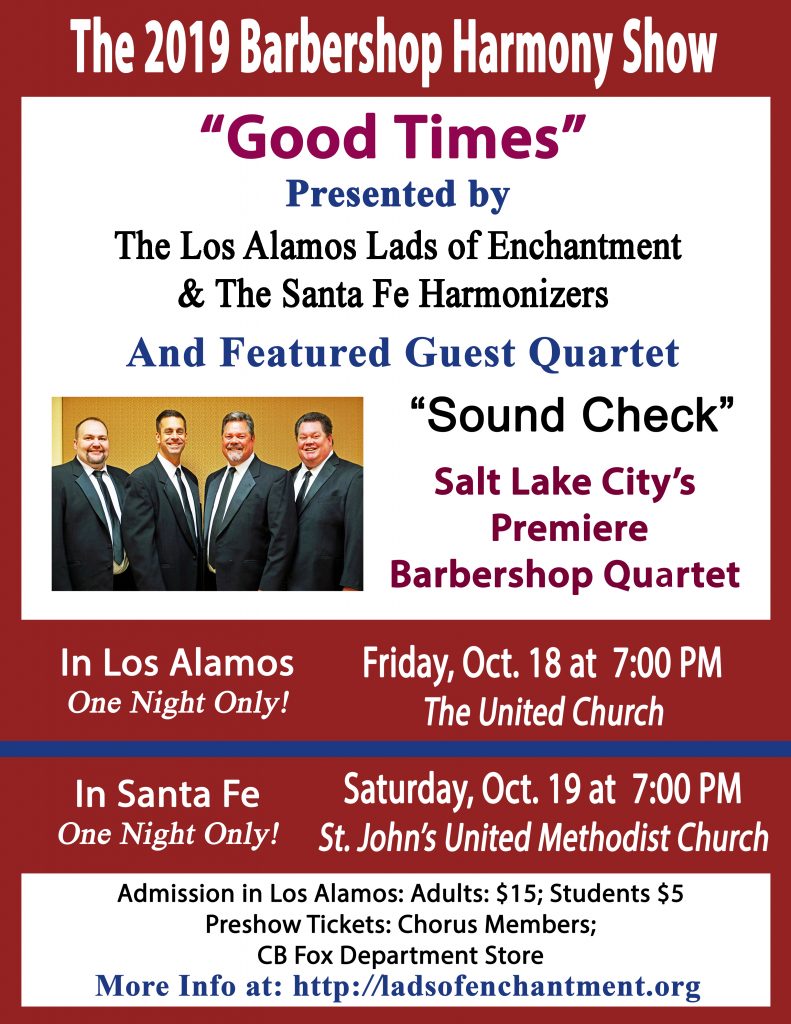 Preview of "Good Times" and Other Information About the Show
The Lads of Enchantment Chorus and Quartets and the Santa Fe Harmonizers Chorus and Quartets, under the direction of Maurice Sheppard, invite you to join them for "Good Times" at The 2019 Annual Barbershop Show in Los Alamos on Friday night, October 18th, or at the Harmonizers' 35th Anniversary Show in Santa Fe on Saturday night, October 19th.
"Good Times" will incorporate a mix of barbershop harmonies, storytelling and barbershop humor to provide an evening of light-hearted family entertainment. Among the chorus songs are a balanced blend of familiar upbeat music ("When I'm sixty four"; "Show me where the good times are"), popular classics ("King of the road", "Sweet Caroline", "After you're gone"; "I don't know why"); ballads ("Sentimental journey"; "Old songs are just like old friends") and heart-felt Americana ("Ride the chariot" and a stirring arrangement of "America the beautiful").
Special Guest Quartet "Sound Check"
In addition to the New Mexico production of "Good Times", the show will feature an additional separate set of barbershop harmony and entertainment by Special Guest Quartet "Sound Check".
Special Guest Quartet, "Sound Check" is based in the Wasatch Front Chapter of the Barbershop Harmony Society. FYI: the Wasatch Front is a long narrow continuous urban area in north central Utah extending from the southern edge of Nephi to the northern edge of Brigham City. The area has a population of about 2.3 million and includes Provo, Salt Lake City and Ogden.
Sound Check's members are experienced long-time barbershoppers and quartet singers who began singing together about three years ago. Mark Andromidas was the lead singer in four other quartets from the Wasatch Front during the last decade. Brothers Brian (bass) and Blair (baritone) Dowd began singing in quartets more than a decade ago when they lived in California, and tenor James Schofield is a veteran quartet singer in the Front and, previously, in Oregon of the Evergreen District.
Maurice Sheppard and other chapter members saw Sound Check perform in competition at the Rocky Mountain District Convention and thought they were a good fit for the Los Alamos and Santa Fe shows. Sound Check has good audience rapport and a nicely blended full sound, supported by their deep bass, Brian Dowd. They have performed at Temple Square and in numerous other venues in the Salt Lake City area, and they are medalists in Rocky Mountain District Quartet Competition. You can preview Sound Check at the links below.
Link 1: https://www.youtube.com/watch?v=4bSqYe00UXk&list=PLvua6kr9_Ac_VaFVCHQllrHmlbIAft4lQ&index=16&t=0s
Link 2: http:// https://www.youtube.com/watch?v=B206YmcvNAE&list=PLvua6kr9_Ac–jCihvDcfzuW4J-_FkCY9&index=7&t=0s
Single Performances in Los Alamos and in Santa Fe
Since its founding in 1992 the Lads of Enchantment have presented the Annual Barbershop Harmony Show on two successive nights in Los Alamos. In the last two years, when the Lads and the Harmonizers have sung together, the groups continued to perform shows on Friday and Saturday evenings in Los Alamos plus a third show, without the Guest Quartet, on Sunday in Santa Fe.
This year there will be a single full show in Los Alamos on Friday night and a single full show in Santa Fe on Saturday night to allow Harmonizer supporters to hear the featured Guest Quartet.
The Afterglow After the Show
An "Afterglow" with a snack and more singing by the guest quartet and by chapter members for a modest fee will be held immediately after the shows in Los Alamos and in Santa Fe.
Admission and Pre-Show Tickets
Admission is priced at $5 for students and children and $15 for all others in Los Alamos. Preshow tickets in Los Alamos can be obtained from chorus members or CB Fox Department Store.
Admission is priced at $15 in Santa Fe. Advance tickets for the Santa Fe show can be obtained from chorus members or by calling (505) 596-0350 in Santa Fe..
Tickets purchased prior to the shows will be honored in Los Alamos or in Santa Fe.
Poster Advertising The Show in Santa Fe